When you think of onboarding, you think of a boring orientation training session at a company that everyone wants to get through as quickly as possible: not a pleasant, engaging experience that will make your new team member look forward to starting their career at a new company. But it doesn't have to be that way.  
Did you know that more than half of companies prioritize protocols and paperwork when onboarding new employees? This approach isn't very helpful for new hires, managers, and HR specialists. Many employees are likely to change jobs quickly if the onboarding process is demotivating. Managers are swamped with everyday duties, calls, and putting out fires – so it's difficult for them to remember every new person and maintain a high drive for showing them around if it's 5 new people coming each month. It's even more challenging for hiring managers and buddies with many new joiners.  
It's critical to give new employees a warm welcome to motivate them and increase their interest in the workplace. But how do you manage to provide efficient but personalized orientation with everyday tasks, stress and too many people joining each month? How do you go about a proper onboarding plan? In our brief manager onboarding guide to the new employee onboarding process, you'll find the answers you're looking for.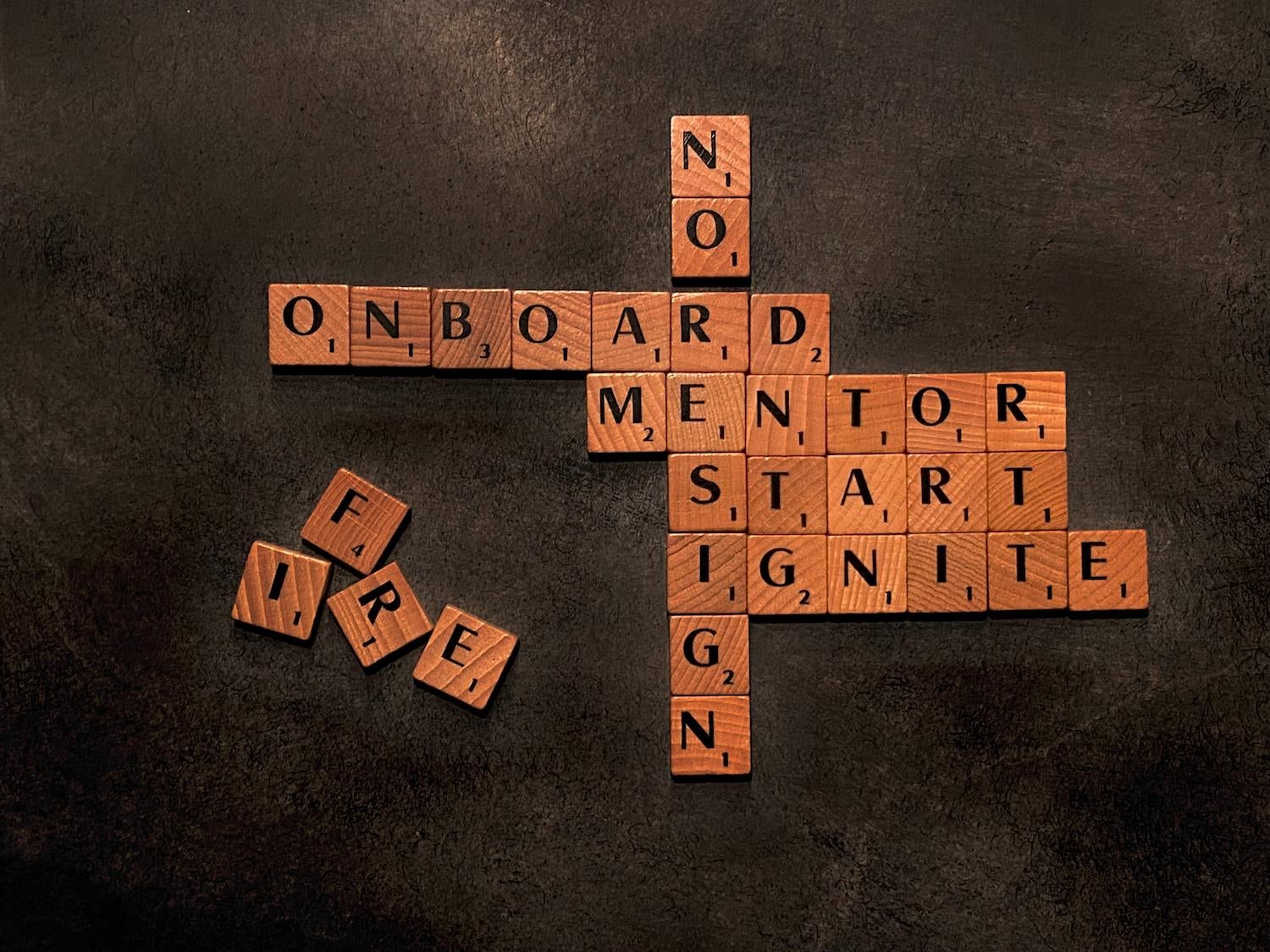 All efforts aimed at familiarizing the new employee with the business policies, environment, and requirements of the new position are referred to as new joiner orientation.  
The primary goal of an orientation plan is to reduce the time it takes for new hires to reach the desired level of productivity for their positions. You want the new hires to feel comfortable, build relationships with their new team, and be better prepared for the tasks ahead. They build a commitment to the company and develop a sense of ownership. All of this will pay off in the future. 
Now comes the tricky part. Contrary to popular misconception, a good employee onboarding process flow does not have to be a slog or feel like just another cog in the wheel. It can be customized and fun for everyone involved - the new employee, the manager, the colleague, and HR. 
Did you know that motivational HR software like Grow Uperion ensures that the entire process is more effective by presenting the company's goals and values in a stimulating and fun way? We know that starting a new job while getting to know a new place, new people, and the local way of working is very stressful. It can also be overwhelming for managers and colleagues to focus on each person as many new employees join each month. HR Employees have their hands full. 
But we have a solution. Gamification makes a busy employee want to participate in onboarding new employees, and new joiners feel well cared for and guided - and therefore more likely to stay with the company long-term. With a gamification platform, the whole process is enjoyable and engaging and, above all, greatly facilitates the orientation of a new hire into the company culture. This definitely relieves the burden on employees involved in the employee onboarding process. It also allows to standardize the whole process, ensuring that every employee starts with the same pool of information, which is not often the case. 
Let us try it out and dive into our tips for a great step-by-step onboarding process. 
The first important aspect to consider here is dividing the onboarding process into three phases - preboarding, the first day on the job, and actual onboarding on site. This is critical because each member of the process - new employee, HR, manager, and buddy - has different roles and responsibilities in each phase. If you plan these phases well and incorporate gamification into them, you can expect interesting, challenging and effective processes for everyone.  This checklist will also work well s a new manager onboarding guide to show how to approach the whole process from different perspectives.
This is a big moment for your new employee! Also, in the best interest of your company, this is your chance to give your new employee the best possible first impression of working with you. This stage may not seem like a big deal, but the way the HR team guides the new person before they start work can make a big difference in employee engagement, retention, and future productivity. We all hate pre-employment misinformation, the lack of a consistent platform, and sending multiple emails to HR with questions about the contract and practical information, right?  
HR – A successful onboarding journey begins before the potential employee sets foot in the office. HR professionals should take care of the new employees and familiarize them with the company. They can give a presentation about the company's values and goals and send out a welcome packet to make the new employee feel valued. All of this will make the whole process less scary for the new person.  On a game-changing onboarding platform, all the paperwork is simplified for Human Resources. You can view all documents, questionnaires or surveys to be signed, track the progress of each new employee's pre-onboarding tasks and send them messages or reminders. All data is in one place - formalities are simplified, access is possible from the phone, and practical information such as directions to the office or the range of services is guaranteed. 
Employee – The new employee focuses on signing the required hiring documents, familiarizing themselves with employer brand materials, and making sure they are prepared for day one - knowing the address, the schedule, and all the tasks that need to be completed.  On the gamified onboarding system, all of this is transparent and easily accessible - all tasks display status, progress bars, and useful information. There is no need to enter data multiple times, as the system stores contact information. In this way, the new employee experiences an interactive and intuitive introduction to the new work environment. 
Manager  – In this initial phase, managers do not have much to do. They should mainly prepare the workplace for the new employee and make sure that all the equipment is in place and ready to use. A good idea would be to inform the team about the new person and take time to arrange a coffee meeting to get to know each other on the first day. With the Grow Uperion platform, a manager can monitor all new employees, see their progress, and even earn points for their leadership. Responsibility is fun. Browsing through a proper onboarding guide for managers would also be a great idea in this stage.
The first day at work is often hectic and intimidating. Before the first day on the job, make sure the new employee knows what to do on the first day and what the orientation process will be. As a manager, remember to complete the necessary paperwork but do not forget to be open and human - give them a tour of the office or get to know the team online through a fun game: and make them feel welcome. This is where the buddy is a great help and a person to guide them through the difficult early days. 
Employee – The first day is all about getting comfortable with the new team, manager, buddy, and new procedures and equipment. What does my typical day look like? What tools will I use and when will I have access to them? Who can I ask for help? Where is the best cafeteria nearby? With an orderly and clear daily schedule created by HR or the manager, the first day will be the least stressful and the most manageable and exciting. If you apply gamification here on a consistent and practical platform, the new employee will be less confused and find all the answers in one place. The onboarding platform will get the job done by displaying specific tasks the new hires need to complete that day at their pace. HR and the manager can see the progress, you can query them and help them if needed. 
Manager – As you know, managers are usually responsible for onboarding multiple employees at once. If it's just one or two per month, the traditional way of managing the first day is sufficient. But what if you have to take care of 8 people at the same time? Then you need to make sure that everyone gets the orientation day schedule, that they are given enough attention, and that they are assigned equipment and access. It's not an easy task to take a personalised approach in the midst of other tasks.  That's where an employee onboarding platform with gamification comes in: managers have all new employees listed in one interface and can see and monitor their hiring status without getting lost. This makes it easier for them to actively participate in the process without the hassle of sending emails. They know what needs to be done and are prepared by day one.  
Buddy – A buddy is someone who makes the first day and months less overwhelming for the new hires. On the first day, they should be helpful, show them around the company, introduce them to friends, and show them how to use basic systems. They should be open to many questions. When using gamification-based onboarding software, a buddy has a much easier job - it's not easy to cater to each person they are mentoring individually. Sometimes you only have one, sometimes 4 at a time.  With such a platform, a buddy can feel motivated to welcome a new person on the first day - because he sees the status of each person, and the tasks the new employee has to do, and gets badges for his help. Everything is clear, transparent and easy to navigate. 
During this time, things get serious. The new employee should be given the opportunity to perform meaningful work, learn about and use the tools needed to complete the tasks, and become acclimated to the workplace. A buddy should always be available to answer myriad questions and offer help with tools to reach people and processes. The manager's job is to monitor the employee's progress, train them and let them become self-sufficient over time. Well-being is also an important point here.  
Employee – It's time to learn, learn and learn some more. During these months, many "soft skills" and "hard skills" need to be acquired. Therefore, new joiners should not be averse to feedback and constructive criticism. They focus on acquiring the maximum amount of knowledge to become self-sufficient. Mistakes are bound to happen, and you have to learn from them. When using gamification, employees can be further incentivized to complete onboarding courses through a points and badges system that rewards them for each task - one completed BHP training earns 50 points! Everything is accessible and organized so everyone knows what they need to do.  
Manager – Although the new employee is becoming more self-sufficient, check in with them from time to time to see how they are doing, their progress and any doubts they may have. Follow up on their training, provide constructive feedback after a course is completed, and arrange weekly or monthly face-to-face meetings to talk informally as well. Sound like a lot? In gamified onboarding software, messages can be scheduled so no one gets left behind. You can create training templates and scenarios and modify them later to reuse for other new employees. With a clear list of tasks to complete and their status, managers can both track their new employees' progress and access individual activities. A recognition badge or external reward for hiring an extra person? Yes, please! 
Buddy – At this stage of the new employee onboarding process, the guidance continues. In the first few weeks, most new employees are not ready to jump right into their daily tasks. To get a feel for how the job is done, onboarding pals should have their new employees observe them doing the appropriate activities. They should not try to explain everything at once but wait for their new worker to gain a firm grasp of each topic. Regular communication via MS teams and weekly check-in meetings are other ways to provide support. 
Free ebook

7 Challenges You Can Gamify in Your Company
Download
A well-structured employee onboarding program paves the way for new hire recognition, productivity and overall employee retention. If you have a small number of employees joining your company on a regular basis, this can be easily accomplished. But as the number of employees grows, you need help controlling and managing the entire onboarding process.  A good onboarding checklist can help with this.
Considering the benefits, it's worth rethinking your company's onboarding process and investing in a proven and effective platform that can take your onboarding strategy to the next level. Interested? 
Take a look at our offer to quickly create an effective and engaging onboarding system for your team - both office-based and remote.