Team building has a bad reputation nowadays. 
Forced and artificial team bonding exercises or beer meetings between people who have nothing in common or do not want to have anything in common. Silly games to break the ice that make you feel awkward or downright uncomfortable. It's a shame that many companies fail to create an environment where people want to get to know and trust each other. If you are familiar with the cult TV series The Office, you know what I am talking about - narcissistic executives and unnecessary get-to-know-you games are not helping. 
If you think about it, it's simple. When you work with people who are familiar and connected to you, you are more likely to communicate and collaborate well. Team socialization has been shown to improve communication skills by more than 50%. It also has a positive impact on employee engagement, retention, productivity and well-being. It's a win-win situation for both sides! That's why it's worth investing in team building activities at work - but you need to plan it and support the integration with knowledge and skills  
Luckily for you, we have got you covered. Read the article to understand the changing role of team building in the workplace and get inspired by our practical and effective tips on how to design and approach it. 

There are many reasons, but for the sake of brevity and practicality, we will summarize the most important and useful ones. In essence, team building exercises are a game changer for company culture - nourishing it, creating a solid foundation for new employees, and building brand reputation in general. Workgroup activities promote employee retention, productivity and satisfaction. They increase the firm's brand image, and improve company culture, outreach and chances of attracting qualified employees. How?  
Did you know that more than 50% of employees stay at a job because they feel they belong to a team? Team building activities make it easier for employees to get along with each other. Workplace conflict is commonplace in many offices and is detrimental to productivity and a positive atmosphere - workgroup activities help reduce it and bring distant teams together. Anything that fosters effective communication between team members is priceless. Work effectiveness and overall company revenue, as well as employee well-being, will boost when individuals feel comfortable talking openly about problems and communicating honestly about potential delays. 
Using icebreakers and team building games can also jump-start a large meeting or lengthy training session. A sense of inclusion and belonging to a group among people who live in different regions of the country or even the world is difficult to achieve. Many companies still work remotely or partially remotely. The smooth running of remote training or dialogues can be ensured through a variety of engaging tasks and activities. We all need to feel that we form a community, even if it is a remote group, because after all, we are all human beings  
One of the less obvious but crucial benefits is that it is easier to find leadership skills among large groups, i.e., people with an inclination to mentor others. An employee may not even realize that he or she has a natural potential to lead and co-creating team building activities such as beer outings, volunteering, or weekend getaways clearly demonstrate this.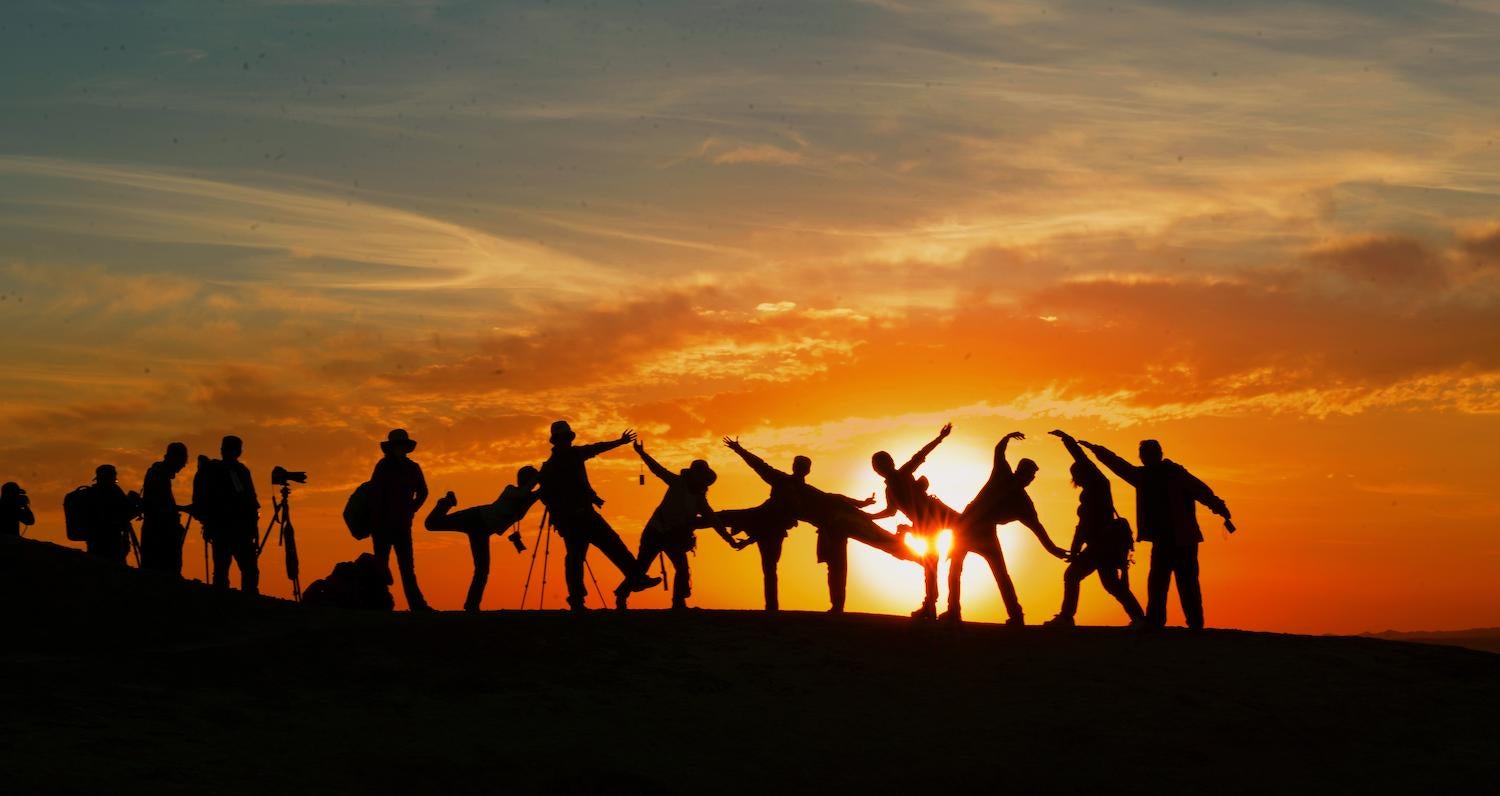 Of course, remote businesses require entirely different team building exercises and team spirit strategies than hybrid or on-premises businesses do. This might be more difficult, and the integration will undoubtedly differ (you communicate differently with people you see every day in person and with people you know only from a picture on Teams) - yet it is not so likely. If you want to learn innovative strategies for fun team building activities at diverse jobs, keep reading. 
Regular Coffee Meets with... Bots! 
As obvious as it may seem at first glance, remote teams that need to work closely together on a daily basis need regular online meetings - and not just business-related ones. One of the fundamentals of fun team building is frequent online "coffee" meetings. Create a space where your employees can informally communicate and share ideas and weekend experiences. 
One fancy idea is to use corporate bots to come up with weekly questions for the meets so employees can get to know each other and not get bored with awkward online conversations. An alternative could be a company app that generates questions and topics or pairs people up to talk about them. This gives you an excuse to make contacts that would otherwise be impossible or just plain weird online - all by themselves  
Quality Real-Life Reunions  
Regular events or outings at work are another team building activity that is much more important for remote teams than for on-site employees. Unfortunately, nothing can replace the intimacy of face-to-face interactions. At the very least, we need to remind ourselves from time to time that the people on the other side of the screen are real humans, not robots. 
That's why it's essential to plan workplace Christmas parties, activities and weekend outings, whether they are routine get-togethers for drinks once a month or sports events like canoeing or marathons. Of course, this depends on the size of the company and the number of employees. In a start-up company, such team building events are easier to carry out than in a large company, where smaller teams have to be formed. 
Theme Meet-ups to Spice Up the Socializing 
We are now discussing how to raise the standard of online meetings. We do not want to just ramble incoherently and anxiously ask questions, do we? The best way to break the ice this holiday season is to have themed gatherings. Own and use seasonal zoom backdrops, like Christmas, Easter, or Halloween. 
You can also make the situation more interesting with accessories like a Santa hat or vampire teeth. Any costume element will be praised and will probably lead to a certain light-heartedness that will facilitate conversation:) Although it may sound cheesy, it can change the formal environment of the workplace and make you seem more personal to your colleagues. Be bold and use unconventional methods to strengthen friendships and build the team.
Get creative with Arts and Hand-made Crafts 
If you are bored of the typical corpo-methods of cultivating team bonding and forced team building activities in the conference room such as office trivia, we suggest a different way of team integration and icebreaker activities for work that truly integrates people and stimulate creative thinking. Organize an arts and crafts project where everyone on the team is tasked with making something by hand - be it jewelry, origami, drawing or decorative candles, for example. 
Find out what interests the people on the team and adapt to their needs. Even if the crafts turn out differently, it will still be a shared experience, a topic for jokes, and maybe even the inspiration for a new passion. You can all follow the same instructions, or you can rotate each week/month, with each team member sharing their crafting skills with the others - collages, macramas, Christmas ornaments, or painting Warhammer figures. 
Ditch simple going out for... Axe-throwing 
It's a good idea to organize fun outdoor team building activities if your employees interact with each other often or every day at the office. Plan an original team building event where employees can get to know each other better than at a simple beer meeting or party. 
Look for bars in your town that also offer additional activities like axe throwing, bowling or board games. Going to the sauna together can also be a novel yet enjoyable activity. The possibilities are many, but they require your willingness to organize an outing that is not dull. When people do not know each other, they need an excuse and social content to trust and build team bonds - fun and unusual time together can help. If you prefer to exercise, there are always options like laser tag or quad biking. It's important that these activities are voluntary. Conduct a survey beforehand and incorporate employee feedback into your plans. 
Contribute to Greater Good 
Yes, we are talking about a charitable team building exercise and community service here. When employees are brought together for a higher purpose, a high-quality and meaningful team building activity is guaranteed. In this way, employees give back to the community or support a cause that is important to them. Instead of just having fun and making friends, various social, environmental and local goals can be pursued at the same time.
For example, a group that cares about ecology could get together to plant trees or clean up the forest. Also, you could collect money together for a local charity or even do something (cooking, sewing) and donate it to the cause. Maybe there are immigrants near the company premises who need cosmetics, food or clothes? The entire group can set up a collection for these products and then report the results to the whole company. This creates a real connection between team members. 
Own the Power of Storyline  
Herein lies one of the fundamental ideas of gamification - a well-known technique borrowed from game psychology and applied in a work environment to promote engagement and teamwork. The concept of collaboration in games is the basis of gamification. We get a sense of togetherness and strengthen the belief in the team when we take action against a common "enemy" A nice illustration of gamification in the workplace would be finding a team member who has been "kidnapped" and identifying the culprit. In order to find clues and pass them on to others, employees need to complete their tasks quickly and effectively.
An example of this is raising ransom money to find the person and get them back. Because nothing welds people together like a common goal. For each task completed, the group receives 'cash', which they use for the ransom. This strengthens teamwork and commitment. 
Encourage Employees to Go Social 
Whether they work remotely, hybrid or in the office, gamification is a great way to encourage team members to connect more and get to know each other. It is a flexible type of effective and fun team building activity. There are several solutions, but one of the most intriguing is gamification of communication skills. If you are working with a provider, you should choose a gamification tool that has this feature. How to understand it? You reward users based on a points or bag system for the number of messages sent or friends added.
By making communication fun, you make it more entertaining and thus automatically motivate team members to interact more. Adding a picture to your platform or on a Teams' profile? Level up! Helped a new team member with a task? A badge is yours for sure. Even if it's done online, it's sure to bring staff together on site - there will always be an excuse to talk. 
Healthy Competition to the Rescue! 
Another type of uplifting activity for work can be supported by gamification based on healthy competition. Regardless of how teams are organised, work and communication become more interesting when points from daily tasks and challenges are added to the overall ranking. A series of tasks, such as completing a training course or a series of challenges to learn a new skill, such as UX or programming, encourage team members to work harder and increase their job satisfaction. As everyone is involved and brought together, this also helps to strengthen interpersonal relationships. 
Free ebook

7 Challenges You Can Gamify in Your Company
Download
One thing is for sure - it pays to invest in team building events for employees. It is not a whim, but an indispensable element of organization, cooperation and good communication skills that are too often lacking in many companies.  
Remember that such activities do not have to cost much. It's all about inspiration and an excuse to get to know each other and work together. Simple, local methods are often the best. 
Team building activities should be tailored to the way the company works, its size, its industry and the number of employees. If you need help bringing your team members together and maximizing productivity and engagement, our gamification experts are here to help.